Signing up for the Banshee wine club guarantees you an allocation of our wines and provides discounts up to 20% on all Banshee wine purchases through our online store and Tasting Room. You also receive invitations to special club only events, access to limited production wines, and complimentary tastings for you and up to three of your friends.
Banshee club memberships also make great gifts for all occasions. Let us know if you would like to arrange for a one year or an ongoing gift membership.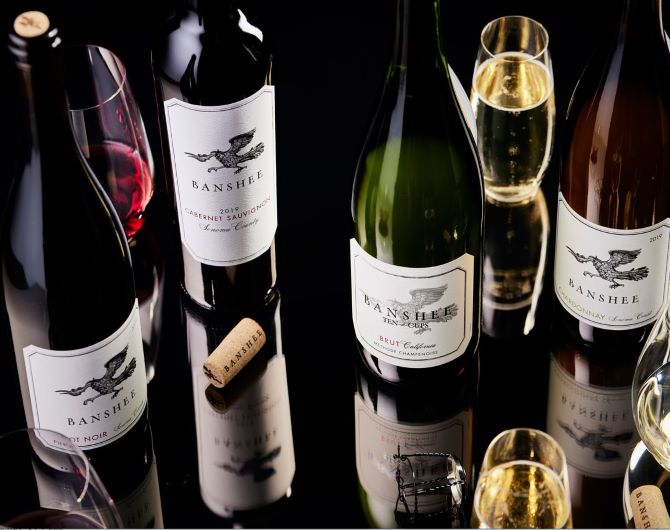 Banshee Wine Club
SAVE 20%
Four times a year (February, May, September, and November), you'll receive a selection of Banshee creations from our appellation blend of wines. We will also include some special bottlings only available to members. Wine selections and prices will vary.
Member Services
If you are already a member with us and have any questions or concerns regarding your membership, please feel free to reach out to us. We look forward to chatting with you soon
T 707.687.0888
E wineclub@bansheewines.com
---
Terms & Conditions
You authorize Banshee Wines to charge your credit card for the wine club(s) you select along with any applicable tax and shipping charges.
SHIPPING: By joining the wine club, you certify that you are at least 21 years of age and understand that wines may only be shipped to and signed for by adults age 21 years or older. Banshee Wines will conveniently ship your wines directly to your home or office. Shipping varies by state, but 3 bottles is approximately $20 and 6 bottles is approximately $30. Shipping is included on 12 bottle memberships. Carriers make three delivery attempts before returning orders to our shipper. It is your obligation to notify us of any billing or shipping changes prior to any deadlines specified in the advance email notification prior to the club release. Extra shipping charges incurred due to an incorrect address, delivery interception, and shipments returned to the winery will be charged to your account.
PICKUPS: We will have a pickup weekend for each wine club release. We will announce the dates of each pickup weekend in your club notification email before the orders process. You must reply to request pickup before your order processes so we can make arrangements to have your order delivered to the tasting room. All other orders (including orders not picked up during the weekend) will automatically ship and shipping charges will apply.
CANCELLATIONS: Members commit to a minimum of two club shipments upon joining. A $50 cancellation fee will apply if you cancel before receiving those shipments. This fee protects our member benefits and any savings we have extended to you. Shipments will automatically continue until you elect to cancel, at which point membership will suspended without further obligation.
Please contact us to join the Banshee Wine Club.